Last week the UK Government announced plans that would see an end to prosecutions, inquests, judicial review and civil claims to 1970s 'Troubles' conflict related incidents. Northern Ireland Secretary Brandon Lewis outlined plans to introduce a bill to parliament which would block all future prosecutions via a statute of limitations from Autumn 2021. This move has pushed commentators, such as Susan McKay, to ask: how much contempt does this government have for Northern Ireland?
Lewis made a public statement and argued that 23 years after the Good Friday peace accord, it was time to move on. This amnesty has also been presented as an opportunity for 'truth-telling' from militant groups who have remained silent out of fear of legal repercussions. Prime Minister Boris Johnson has expressed support for the amnesty approach, saying it would "enable the province of Northern Ireland to draw a line under the Troubles." The rhetoric of 'moving on' or 'drawing a line in the sand' attempts to temporally distance society from instances of state violence and to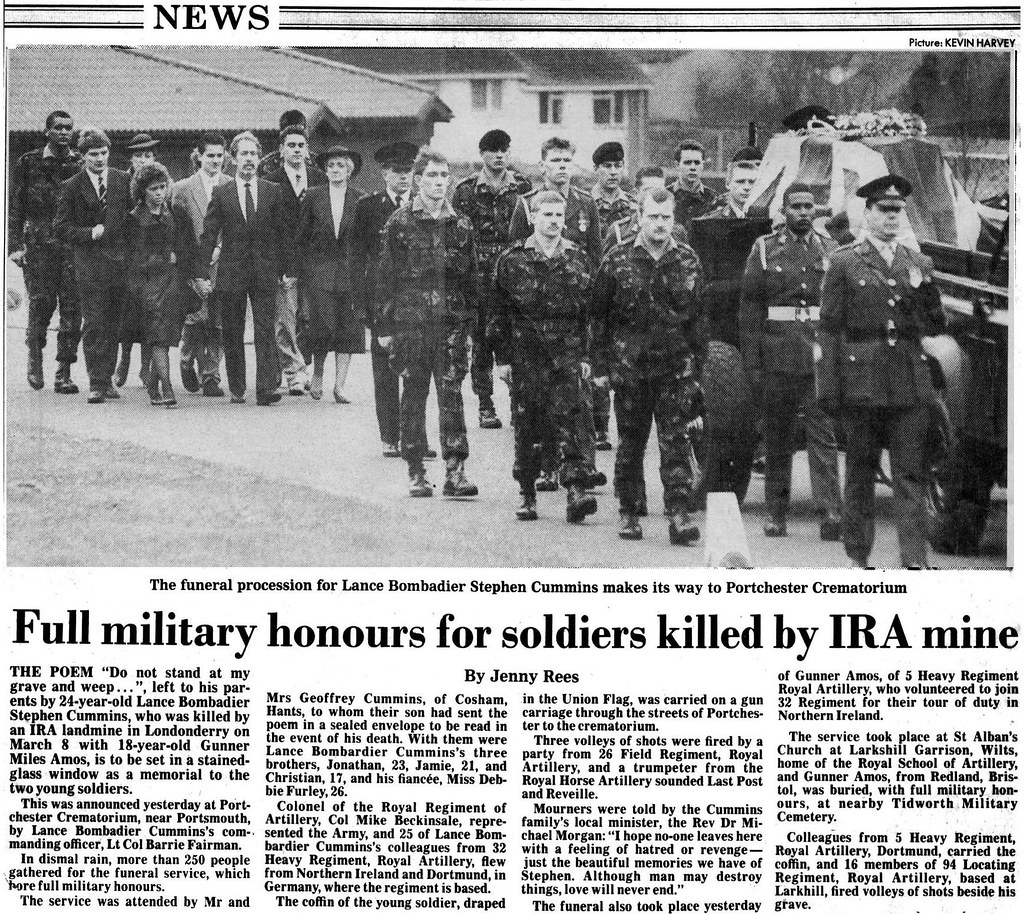 Some commentators have drawn similarities with the amnesty in South Africa at the end of Apartheid. However, unlike the amnesty in South Africa, which was not without criticism from scholars such as Mahmood Mamdani, the Northern Ireland bill suggested by Lewis will not be accompanied by a formal, public investigation and transitional justice process. This has led to many believing that this is a poorly-concealed attempt to to prevent ex-soldiers and intelligence figures from appearing on trial or being found responsible for their roles in killing Irish Catholic civilians, including in collusion with outlawed Protestant groups and paramilitary forces.
Trials could also provoke the state to reveal diplomatic or military files that the state would rather remain secret. This would not be an isolated instance of the British government hiding uncomfortable truths in classified files and being forced to reveal them by a judge, as with the Hanslope Park discovery in 2013.
In response to Lewis' plan for a universal amnesty, the Northern Ireland Assembly has spoken out in rejection of the UK Government's hopes to put the conflict in the past. NI Lawmakers unanimously backed a motion saying Prime Minister Boris Johnson's plans "do not serve the interests, wishes or needs of victims, nor the requirements of truth, justice, accountability and reconciliation."
Below is a relevant twitter thread written by Dr Laura McAtackney, associate professor in the Department of Archaeology and Heritage Studies at Aarhus University in Denmark. She explores the historical and contemporary archaeologies of institutions and colonialism (often together) and the material world of post-conflict Northern Ireland. In this twitter thread, Laura pushes against Lewis' argument that due to British recordkeeping, 'the weight of prosecutions' would 'continue to fall disproportionately on veterans', revealing an inherent preference for documentary, establishment evidence over oral testimonies or victim statements. The use of memory in transitional justice trials remains a controversial tool for establishing criminal responsibility, and has been a contentious issue since the Nuremberg Trials in the post-Second World War period. However, as scholarship by academics, like Peter Manning, has shown, transitional justices processes must be open to the collection and preservation of memories of political violence as it it through personal and collective memory that victims of atrocities are able to exert agency over their own experiences. Laura highlights the political dimensions of the UK Government's plans: